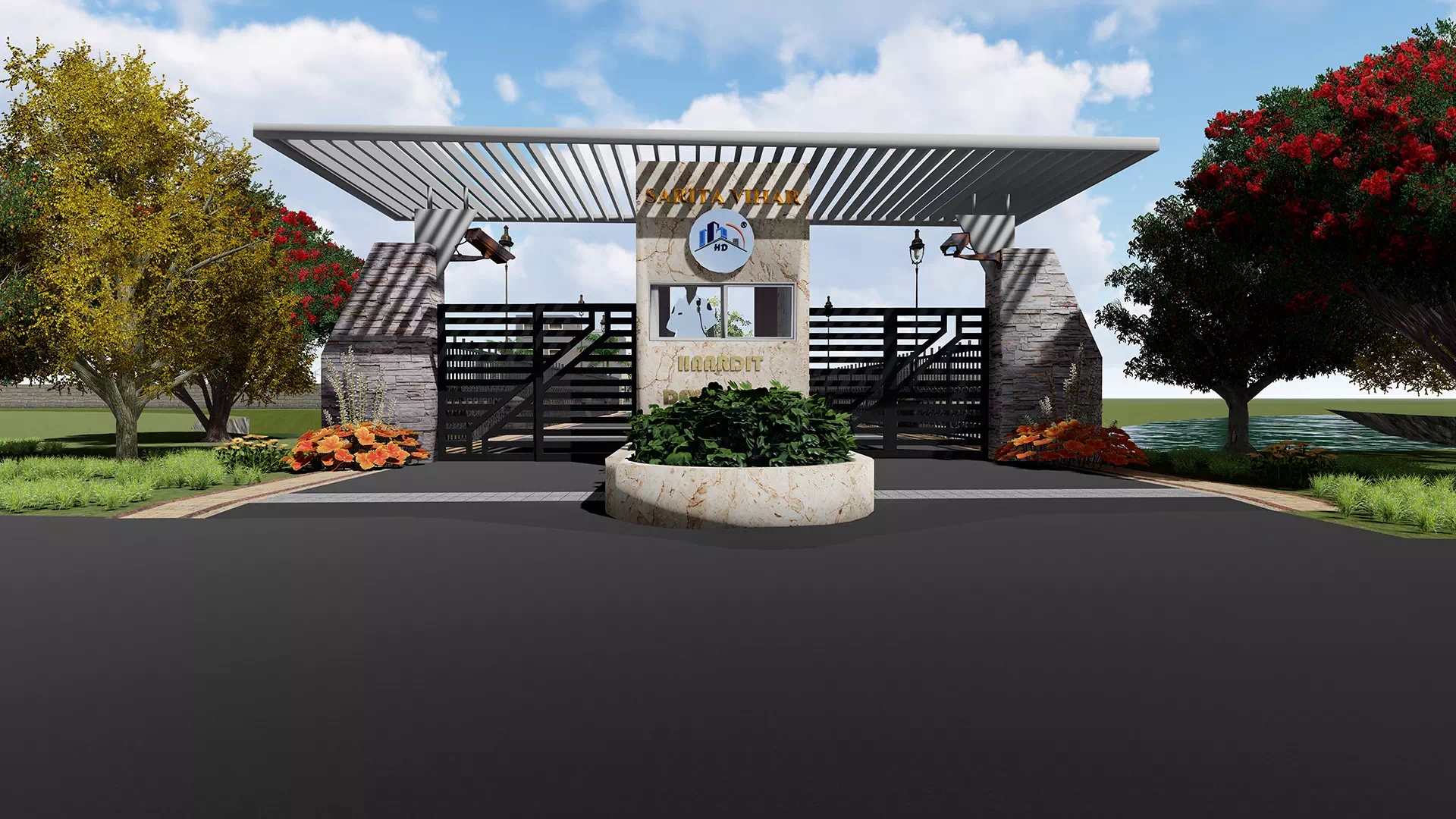 240+ Residential Plots

SARITA VIHAR
Sarita Vihar is the latest project of Haardit Developers its located in Fulbari in a calm and serene environment away from the hustle and bustle of the city.
The project is nearly 1.5 km from Asian highway and is well connected to all the popular spots in siliguri. Our project area is nearly 70 bigha with 244 residential plots, In addition to that we will build a community Centre for social activities and gathering.
Our project features two entry and exit gates monitored by CCTV camera 24*7 thus keeping our society safe from any unwanted intrusion. The main road of this project is 28 feet wide(including Plantation, street lights, Drainage and municipal water supply pipe).Yes in addition for the convenience of our customers each plot will have a water supply pipe outlet.
We have also equipped Sarita Vihar with kids playground and parks as recreation luxury for the residents of the society. In near future we will also come up with low cost flats in some areas of Sarita Vihar. So what are you waiting for come grab your plots and enjoy living in a peaceful and serene environment.
Property Amenities
1.2 K/m away from Asian Highway ( AH1), and soon to become the new township in FULBARI. With convenience of drinking water to the resident's of Sarita Vihar from SILIGURI MUNICIPAL CORPORATION, DARJEELING. Along with these we have the following amenities...
2.
Project Main Road 28 ft.
(including water pipe, street light, plantation & Drainage)
6.
Lush Green Park
Sarita Vihar is designed to contain 2 Parks for planted space and for human enjoyment and recreation.Nothing is more enjayable than taking a stroll in park in the morning or evening , doing excercise or building up cardio.
8.
Plot Size – 2.5 Katha & above
9.
Plantation on Both Side of road
13.
CCTV Camera
Installed reliable, state of the art, easy to operate, secure and information Security.
14.
Community Hall
We have designed a community hall for you to gather for group activities, social support, public information, and other purposes.
15.
Muncipal Water Supply Pipe
from SILIGURI MUNICIPAL CORPORATION, DARJEELING.
( SARITA VIHAR )
Locations from Project Site
Airport                       – 17.8 Km
NJP                             – 12.7 Km
Siliguri Junction      – 14.0 Km
NBU                            – 11.9 Km
Gyan Jyoti College   – 15.9 Km
DPS                             – 17.9 Km
GD Goenka                – 16.4 Km
SIT                              – 19.7 Km
Mahbert School       – 18.0 Km
City Centre                  – 14.7 Km
Cosmos Mall               – 16.0 Km
Vega Circle                  – 17.6 Km
Barsana Hotel             – 13.7 Km
Montana Vista            – 18.2 Km
Blue Mountain Club  – 17.9 Km
Neotia Getwel                 – 14.7 Km
Dr. Changs                      – 14.5 Km
Medical North Bengal  – 14.6 Km
Anandlok Hospital       – 13.6 Km
Maharaja Agrasen Hospital –  5.0 km
Sarita Vihar Walk-through
Book Your Plot Online Now
Just click on the plot of your choice
Rohit Ray
Rohit is another one of the best agents in Haardit Developers.He haas been living in Siliguri for more than 5 years. He has in-depth knowledge of all the properties owned and operated by Haardit Developers and the property needs of people in Siliguri. He can answer any queries about a property in a ziffy and is always available to help the customers during the purchase process.If you are dealing with him know that he is the best person suited to cater your real estate needs.
www.haarditdevelopers.com